Europe
There were many significant developments in Eurozone. In Germany, Chancellor Angela Merkel indicated that drastic quarantine measures could be extended for 10 weeks if authorities fail to contain the growing Coronavirus outbreak, and that could happen at a meeting on January 25th. Also, German Finance Minister Olaf Scholz said no one would know when the outbreak would end, that the current restrictions had no severe impact on the economy and that they have the firepower in case the financial support iss needed. Meanwhile, EU member states called for Iran to abandon its uranium enrichment step and rescue the 2015 nuclear deal, while EU Commission President Ursula von der Leyen announced that AstraZeneca&Oxford Vaccine had applied to the European Medicines Agency (EMA).

On the other hand, European Central Bank (ECB) board member Isabel Schnabel warned that inflation is at very low levels due to the pandemic and that they expect inflation to rise in 2021, but this will not be at high levels, while the ECB should not rush to raise rates. In addition, French Finance Minister Bruno Le Maire said there could be a significant economic recovery in the second half of 2021.
US
Due to political events in the United States, session in the U.S. House of Representatives was critical for impeachment of President Donald Trump. While the House of Representatives Committee on Rules set the parameters for discussion and voting on the impeachment proposal, U.S. Vice President Mike Pence communicated to House Speaker Nancy Pelosi that he would not take any steps to impeach Trump. On the other side, Trump said he never wanted violence and his impeachment process sparked great outrage. On the other hand, U.S. Health Secretary Alex Azar said that they are considering releasing coronavirus vaccine distribution and that states will call on all Americans over the age of 65 to be vaccinated, while a statement from U.S. vaccine manufacturer Moderna said that their vaccine against coronavirus provides immunity for at least a year.

In addition, important statements came from the Fed. Cleveland Fed President Loretta Mester said monetary and fiscal policies are helping the economy recover, and those policies could continue for a long time to limit the lasting damage of Coronavirus outbreak. In addition, Kansas City Fed President Esther George said that if inflation goes above 2 percent, the Fed will not react in the short-term unemployment rate and that the indicator for the Bank is 3.5 percent. Boston Fed President Eric Rosengren stated that the Fed's asset purchases will continue until the economy is stronger and that he expects a strong recovery in the US economy in the second half of 2021. Looking at the macroeconomic calendar, according to data released by the US Department of Labor, the result of job opportunities and labor turnover survey (JOLTS) was 6.52 million in November.
Britain
In British markets, comments by a spokesman for British Prime Minister Boris Johnson on financial services with the EU, which has not been resolved in Brexit trade talks, have come to the fore. Talks with the EU on financial services began this week and a memorandum of understanding on this issue is set to be signed by March, the spokesman said. Meanwhile, British Foreign Minister Dominic Raab said they were concerned about allegations of forced labor of people in the Xinjiang region, while new rules would be introduced on the entry of goods from that region into the country.

On the other hand, Bank of England (BoE) Chairman Andrew Bailey said the UK economy would shrink somewhat in Q4 2020 at best, and while the economy was in a difficult period, the recovery would be later than predicted and they expected growth below forecasts in Q1 2021. In addition, Ben Broadbent, Deputy Chairman of the BoE Monetary Policy Board, said that the Coronavirus outbreak in the UK could have an impact on inflation in the long term, creating less inflation than expected for the short term.
Asia
In the Asian session, China and Japan news was on the markets' radar. China's Foreign Ministry spokesman Zhao Lijian said Australia should adhere to free market principles, while Britain denied the accusations against the Xinjiang region. Lijian also noted that US Secretary of State Mike Pompeo spread a political virus to China and that these initiatives should be blocked. On the other hand, Japanese Prime Minister Yoshihide Suga said that they can expand the scope of the state of emergency imposed in Tokyo and 3 surrounding states to prevent the spread of coronavirus, while a government spokesman said that for some regions, they need to respond quickly.

In Turkey, President Recep Tayyip Erdogan's speech to EU ambassadors was important. Erdogan said that they are ready to put relations with the EU on track and expect the same stance from the EU, saying that the uncertainty within the EU can be resolved by Turkey becoming a member. On the other hand, Foreign Minister Mevlut Cavusoglu said that Turkey is committed to reforms and sees its future in Europe.
---
---
USIndex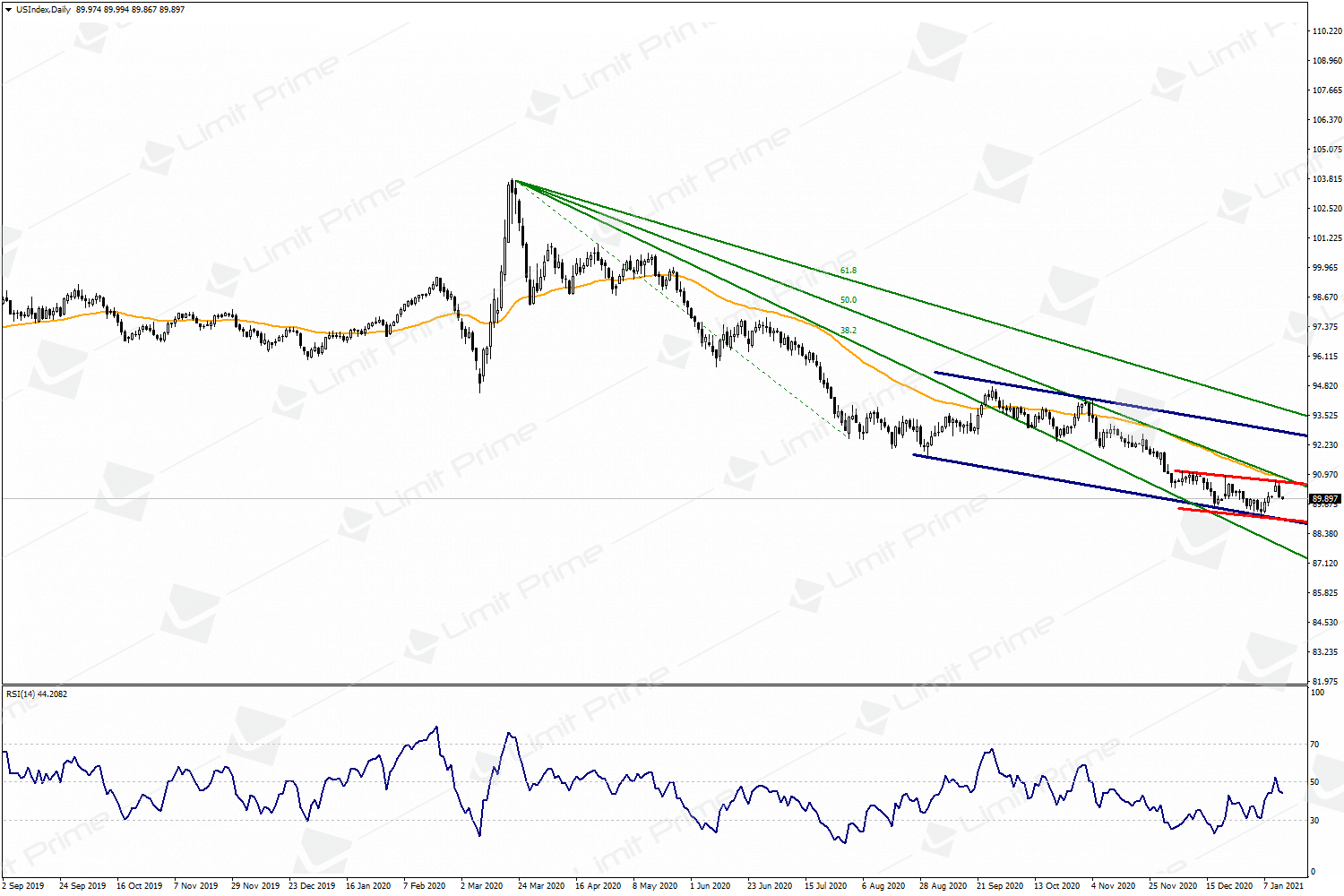 The recovery in the dollar due to the end of election uncertainty in the United States has not been long-term. However, Fibonacci 50.0 percent fan line is not broken and the recovery behavior can not give a indicate strengthening the dollar index.The effect of the current downward pressure may lead the index below 89.60, and 89.30 and 89.00 support levels could be our targets. In terms of starting an upward course in the index, 96.50 level indicated by the fan line above 90.20 plays a key role.
| | | | |
| --- | --- | --- | --- |
| Support | 89.60 | 89.30 | 89.00 |
| Resistance | 90.20 | 90.50 | 90.80 |
---
EURUSD
Euro pricing is under pressure as news flows reflected in markets that coronavirus restrictions may be extended in Germany, Europe's locomotive economy. If the pair, which technically ended its positive trend and signaled the downward course, can break 1.2180 support, and continue to decline to 1.2150 and 1.2120 supports. The recovery of the pair does not seem possible to begin unless the minor descending channel is exceeded with 1.2240 level.
| | | | |
| --- | --- | --- | --- |
| Support | 1.2180 | 1.2150 | 1.2120 |
| Resistance | 1.2240 | 1.2270 | 1.2300 |
GBPUSD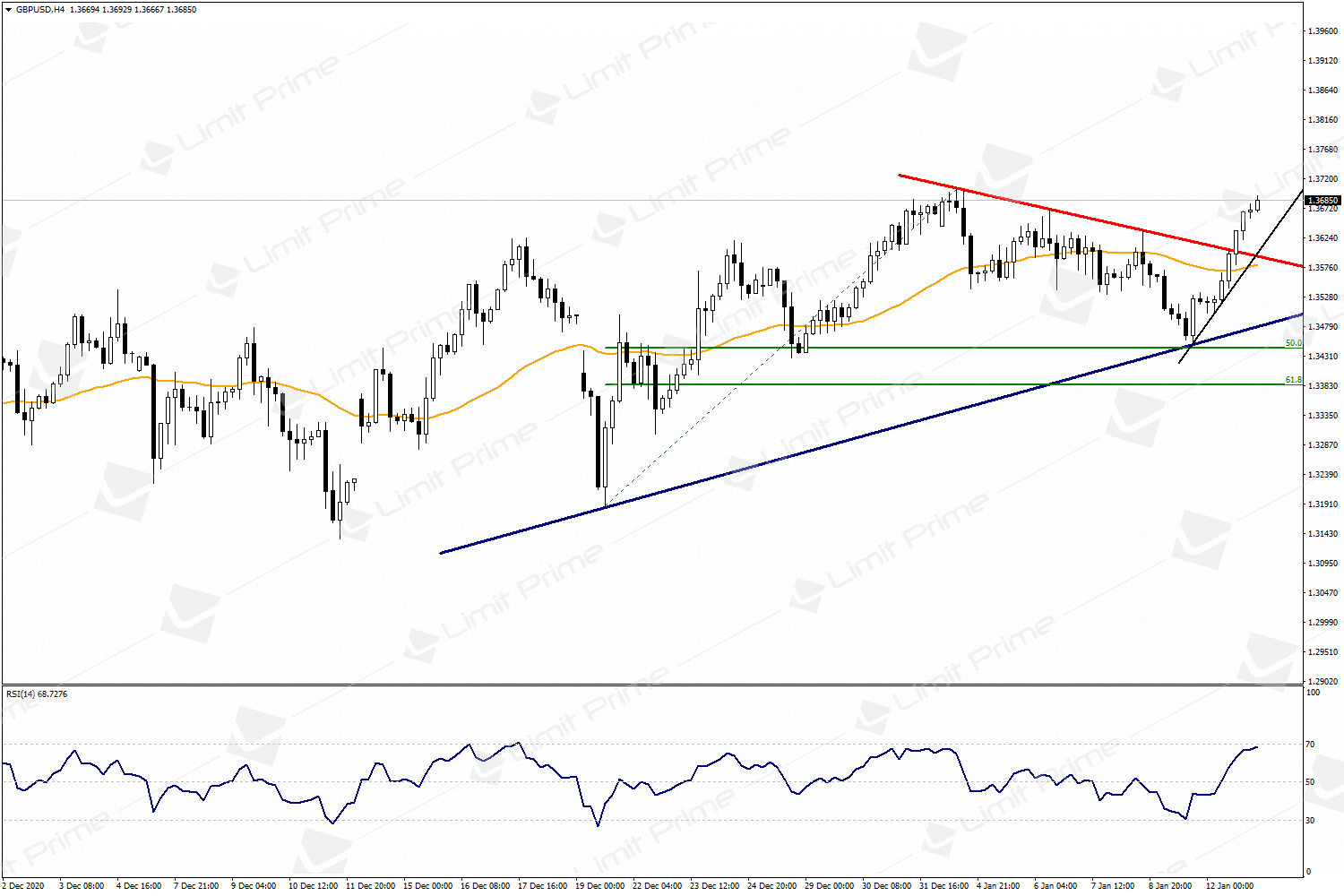 In the context of the national quarantine announced in the UK, BoE Chairman Bailey's pointed out that the downward trend in economic activity was less than the first wave, paving the way for a gain in value in sterling assets. In this direction, the pair, which ended the intermediate descending trend, can also test 1.3800 resistance above 1.3760, in case, it can move its prices above 1.3720. 1.3640 and 1.3600 supports can be followed for possible retreats that may occur in pair.
| | | | |
| --- | --- | --- | --- |
| Support | 1.3640 | 1.3600 | 1.3560 |
| Resistance | 1.3720 | 1.3760 | 1.3800 |
USDJPY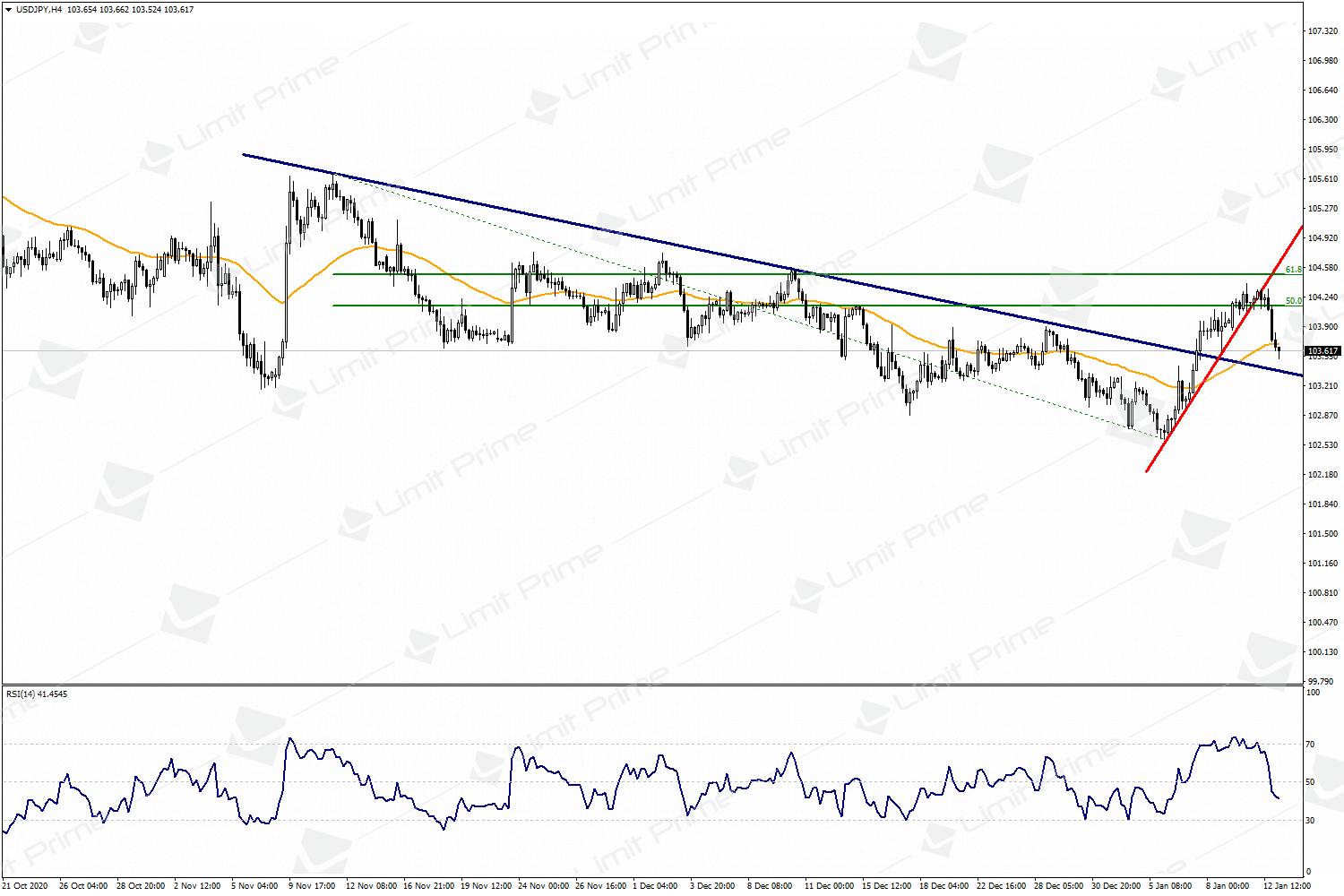 After positive pricing, which it displayed relatively decisively, we saw that the pair faced profit realizations. However, if the pair breaks 103.30 support and return its gains by hanging below the minor ascending trend, we will follow 103.00 support. For possible upward movements of the pair, on the other side, 103.90 and 104.20 resistances will be on our radar.
| | | | |
| --- | --- | --- | --- |
| Support | 103.30 | 103.00 | 102.70 |
| Resistance | 103.90 | 104.20 | 104.50 |
---
XAUUSD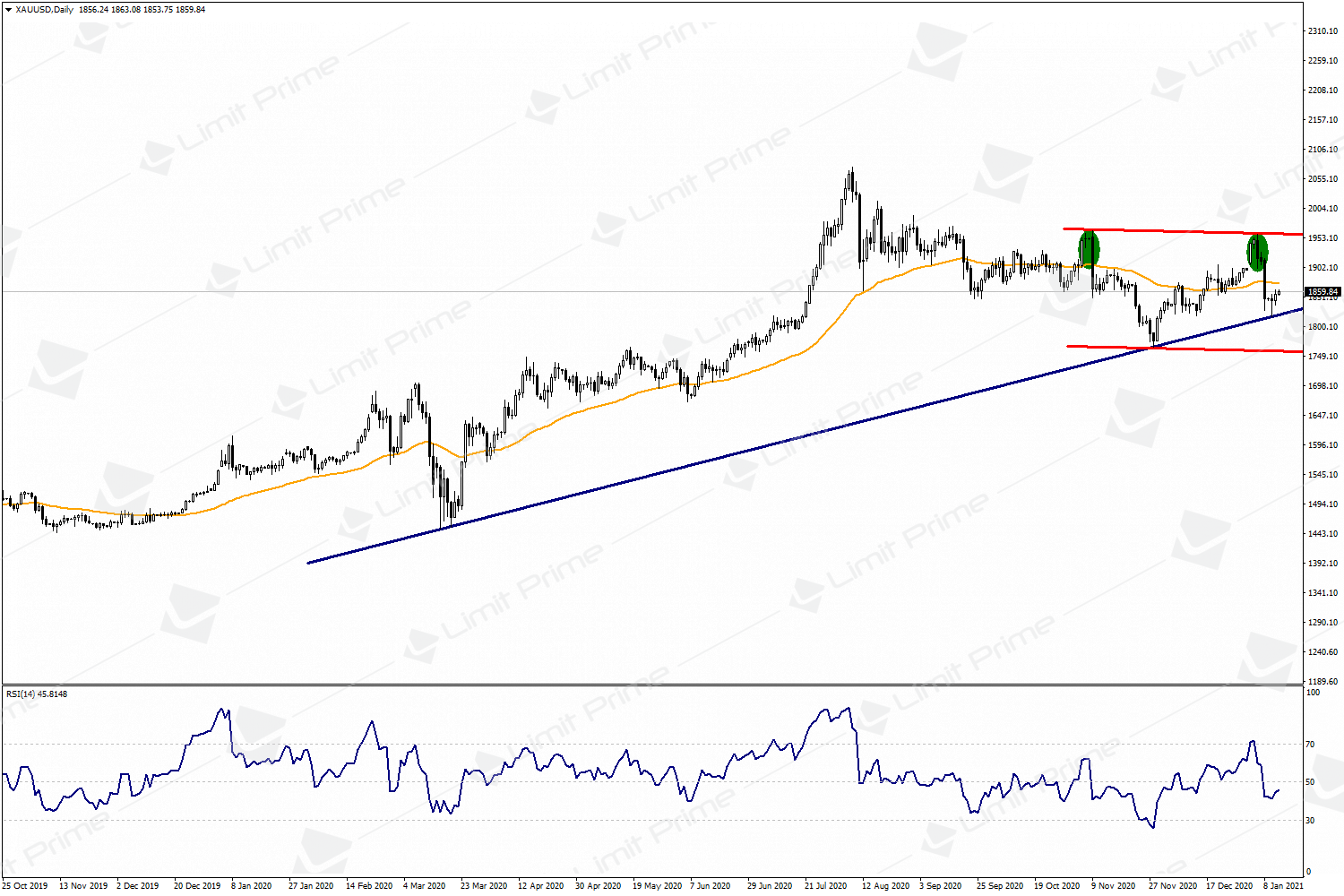 Gold has been under pressure with US 10-year interest rates significantly higher after 11 months and it is seeking a moderate recovery. However, as long as the closes are below 1874, which is the 50-period exponential moving average, downward movement may continue. In line with the double top pattern, it may deepen to 1842 and 1826 levels and break the ascending trend line. In this case, it may further deepen to 1808.
| | | | |
| --- | --- | --- | --- |
| Support | 1842 | 1826 | 1808 |
| Resistance | 1874 | 1890 | 1908 |
USOIL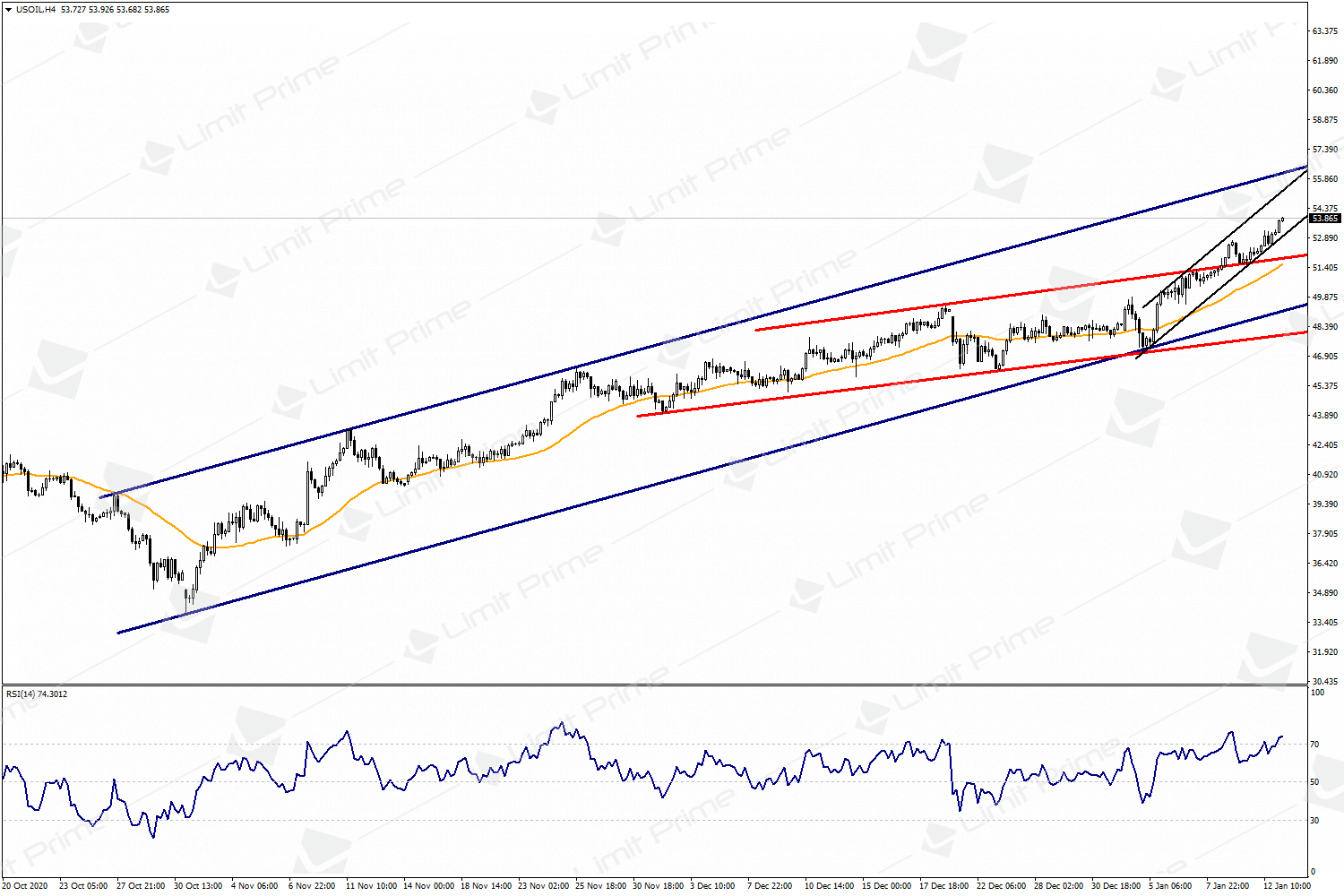 Global markets are dominated by relative optimism, while expectations that demand will increase, in addition to news of production cuts in the New Year, are powering crude oil. In this context, the commodity that continues to rise in the minor price channel can also test 55.00 resistance, in case, it can exceed 54.40 resistance above strongly. We will not expect a retracement movement to begin, if the lower boundary line of the channel in question, which marks 53.20 support, is not broken.
| | | | |
| --- | --- | --- | --- |
| Support | 53.20 | 52.60 | 52.00 |
| Resistance | 54.40 | 55.00 | 55.60 |
XAGUSD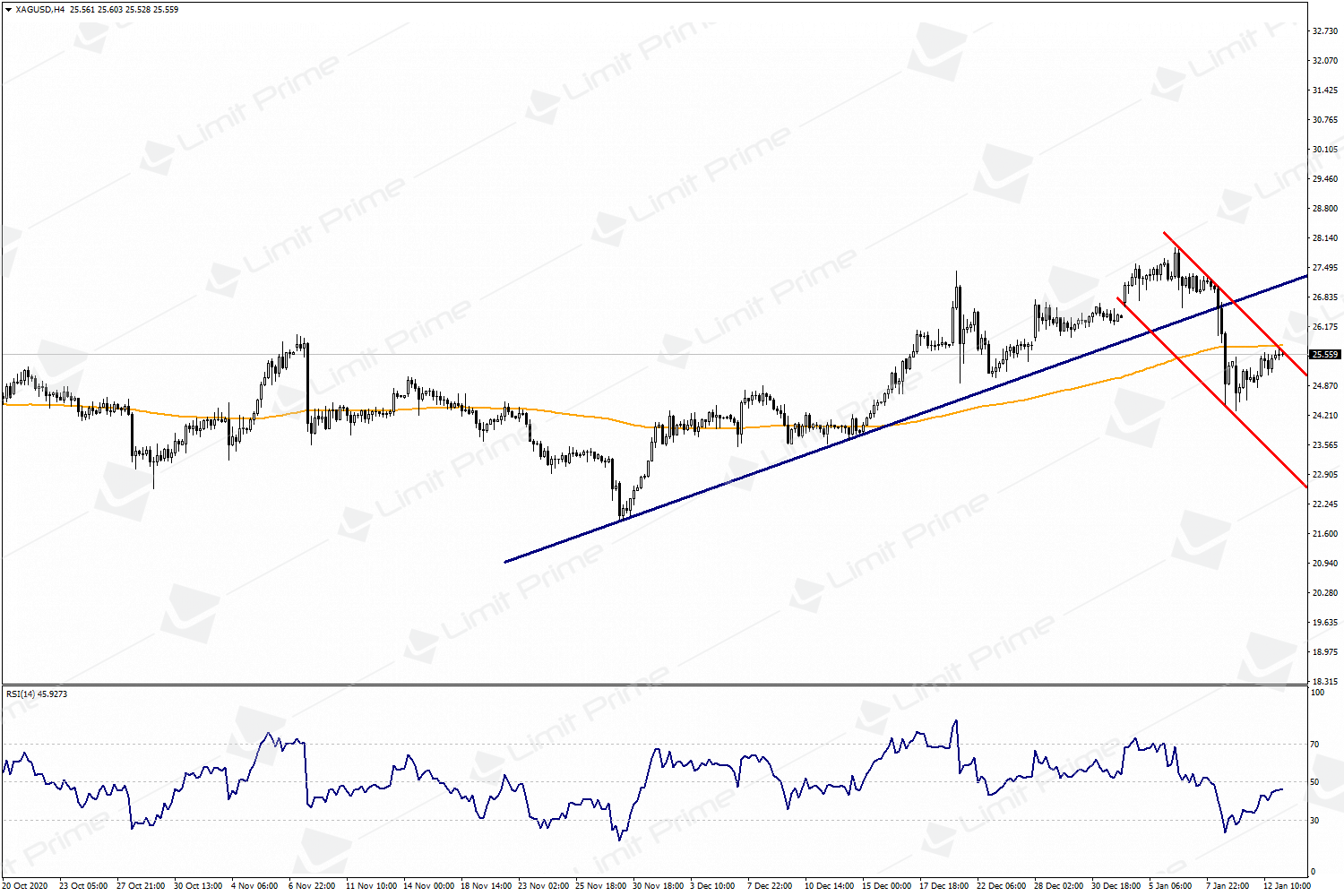 Silver, which depreciated sharply with declining safe haven demand in global markets, faced strong resistance at the 200-period weighted moving average in recovery attempts. If the commodity, which we expect to remain under sales pressure as long as its price is below the moving average level of 25.80, gets below 25.30 support, it will possibly accelerate its losses to 25.00 and 24.70 supports. 26.10 and 26.40 resistances can be monitored for possible attacks that the commodity can perform on this level.
| | | | |
| --- | --- | --- | --- |
| Support | 25.30 | 25.00 | 24.70 |
| Resistance | 25.80 | 26.10 | 26.40 |
---
DAX30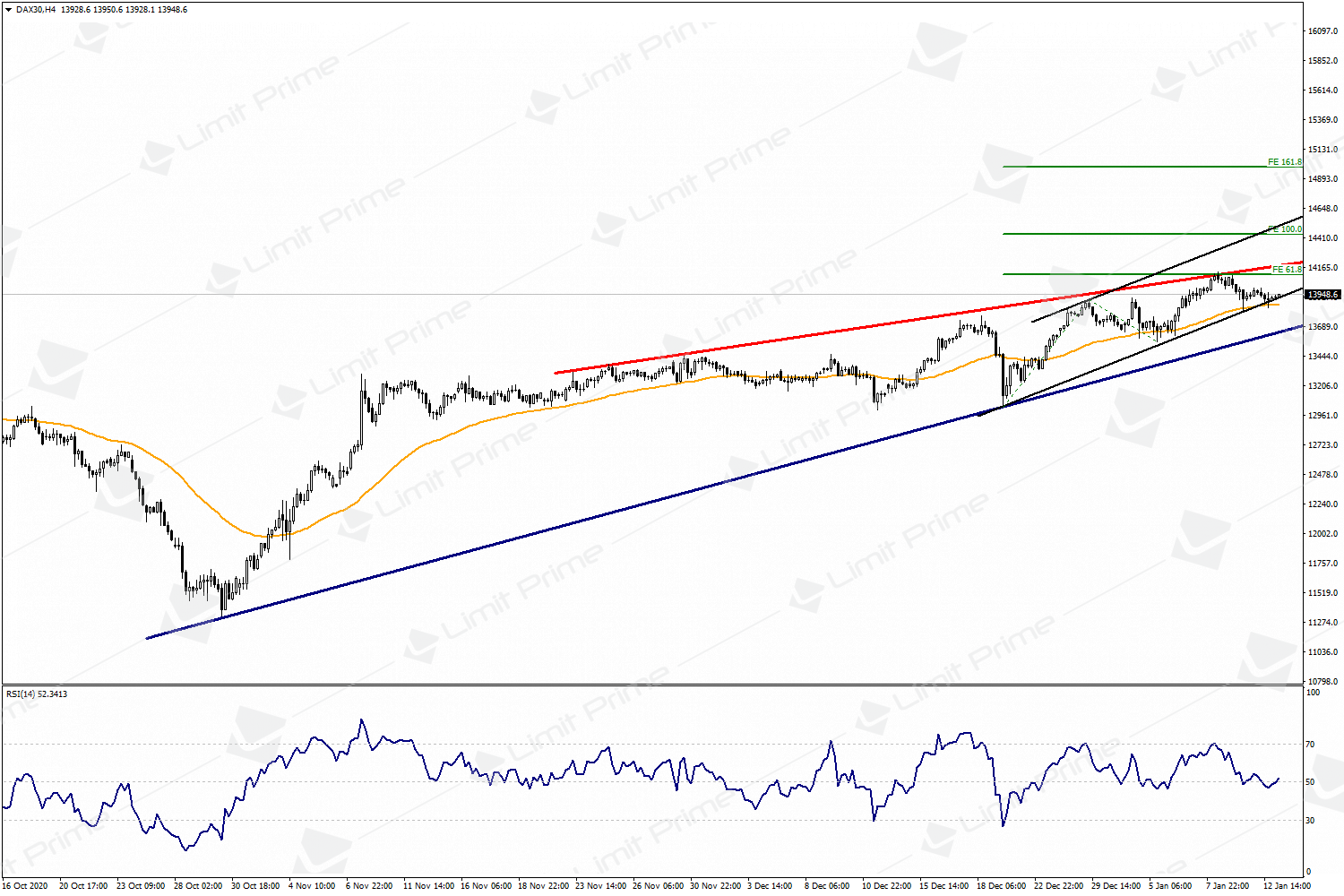 News that restrictions against coronavirus will be extended in the Eurozone's largest economy put some downward pressure on DAX30. However, positive pricing on global stock markets is also effective on the index. We expect it to continue to rise as long as it stays above the minor ascending channel. And in case, it can exceed 14 080, our targets will be 14 200 and 14 340 levels. 13 820 and 13 700 supports may be followed, in case, the index decreases to the area below the channel.
| | | | |
| --- | --- | --- | --- |
| Support | 13 820 | 13 700 | 13 560 |
| Resistance | 14 080 | 14 200 | 14 340 |
S&P500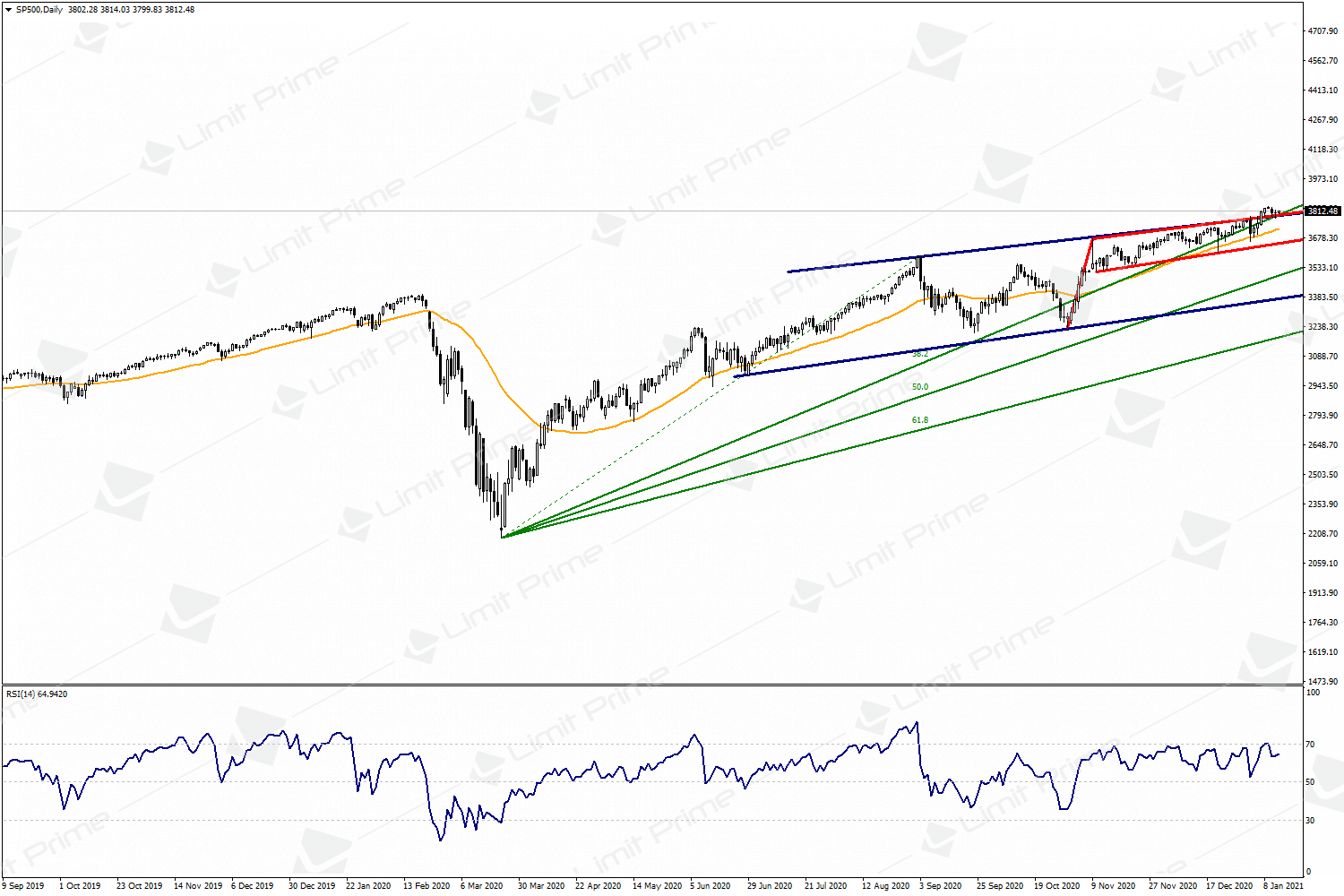 Expectations that Democrats will roll out a wide-ranging stimulus package against the economic effects of coronavirus in the United States continue to support SP500. Technically, the index preserves its desire to rise as it continues to move above Fibonacci 61.8 fan line. If it tests 3 833, which is the highest of all times, we will target 3 854 level. In possible declines below the fan line in question, the retracement movement can deepen to 3 791 and 3 770 supports.
| | | | |
| --- | --- | --- | --- |
| Support | 3 791 | 3 770 | 3 748 |
| Resistance | 3 833 | 3 854 | 3 876 |
---
BTCUSD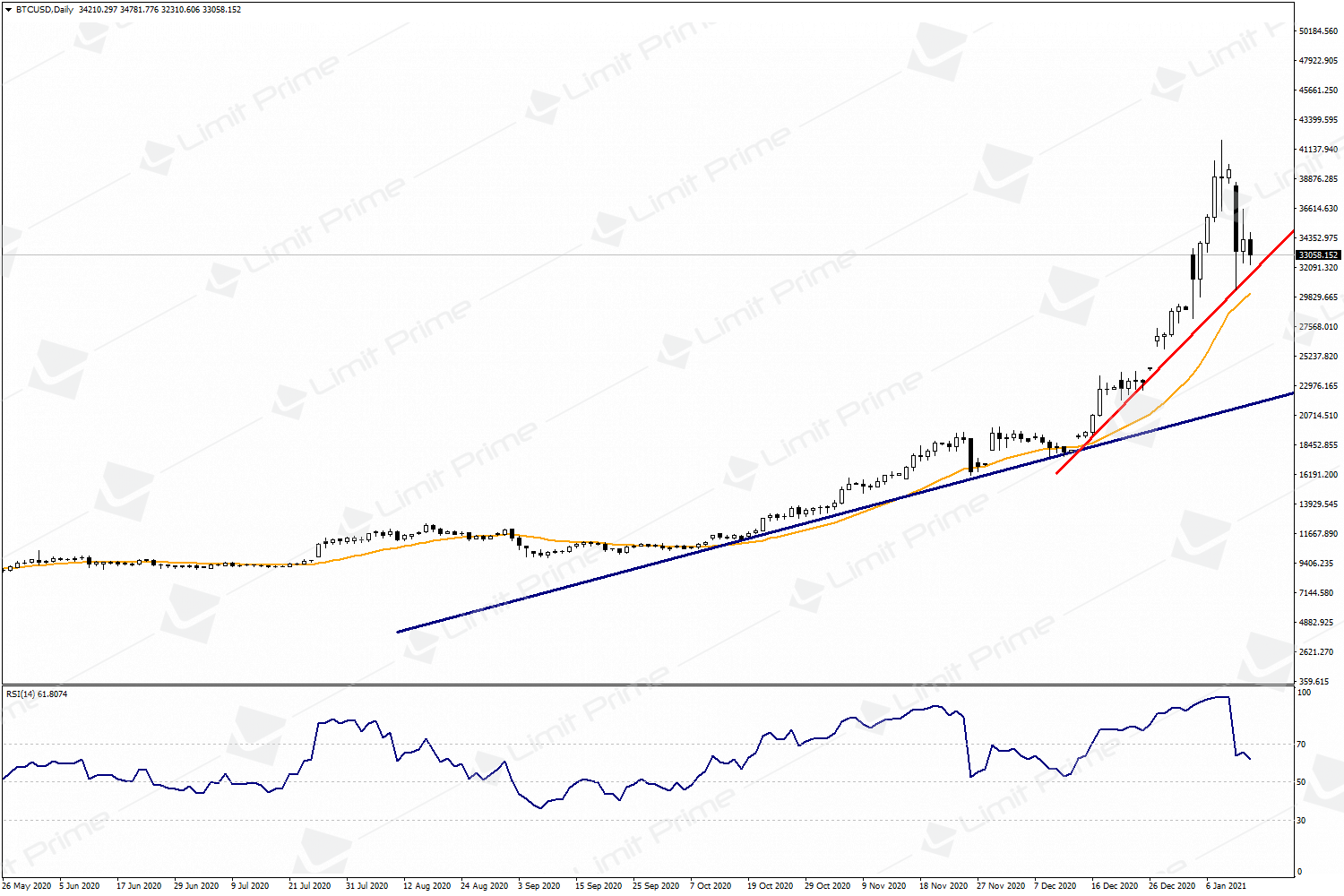 BTCUSD held at the minor ascending trend while descending sharply. After that, Bitcoin showed positive movements. And it can target 35 800 and 37 200 resistance levels, after exceeding 34 400. In case of possible downward movements, on the other side, 31 600 and 30 200 support levels will be on our radar.
| | | | |
| --- | --- | --- | --- |
| Support | 31 600 | 30 200 | 28 800 |
| Resistance | 34 400 | 35 800 | 37 200 |