Oil Forecast 2023
01.02.2023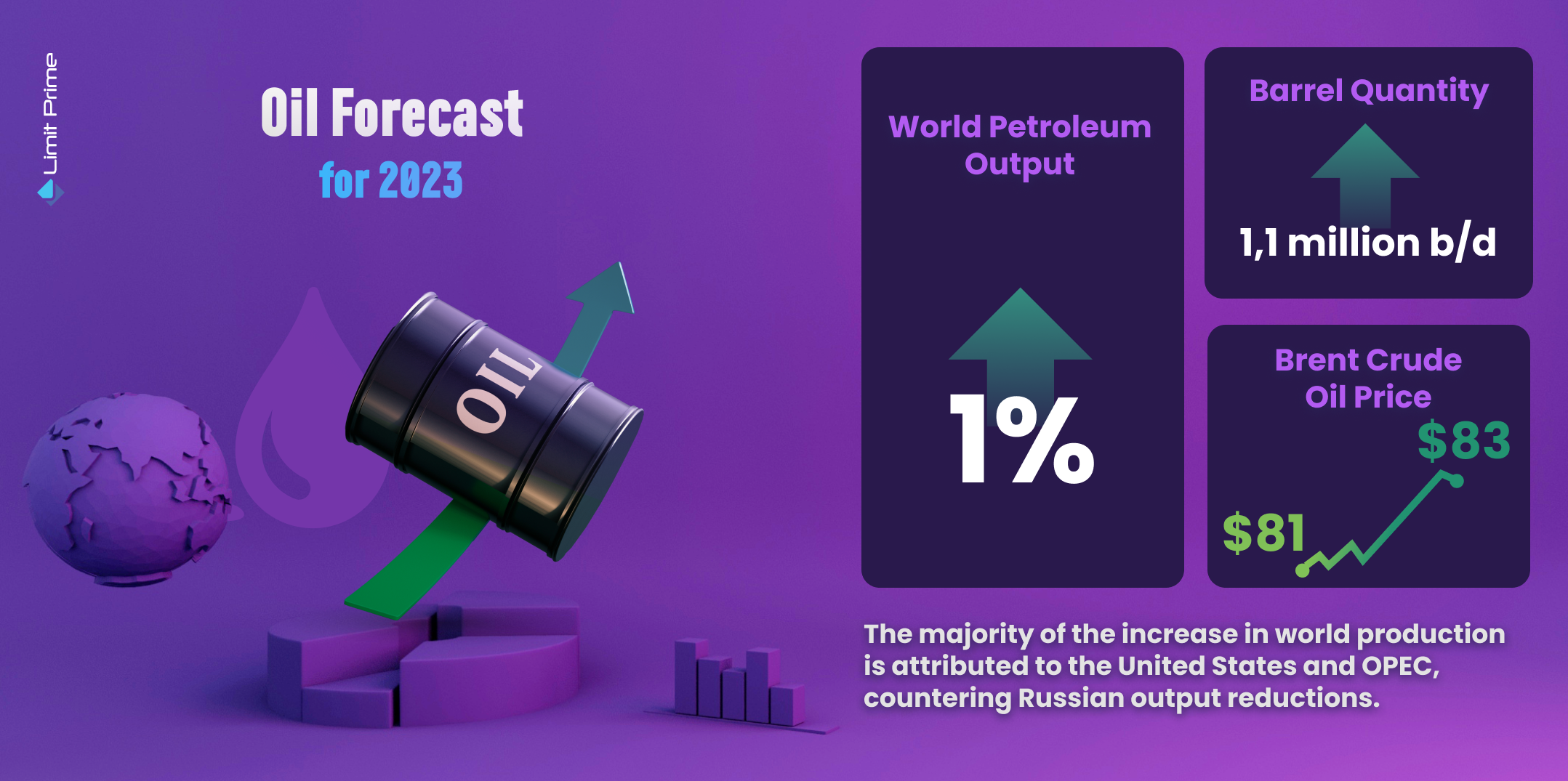 Oil prices have been on a roller coaster ride over the past decade, and surely the ride isn't over yet. In a market such as this one with more than $70 billion in capital investment at risk, it's important to understand and take notes of what causes oil prices to fluctuate. And how you can protect your assets against future market swings.
Crude oil prices jump up and down because many factors are involved in determining the price itself. These factors that have a significant impact on crude oil include global supply and demand for crude oil, geopolitical issues that affect supply or demand; and how much money investors are willing to invest in the oil.
On that note, surely we've all seen and heard it before! The oil and gas industry had a relatively pleasant year last year as prices rose to a decade high. But following a strong start to the year, oil prices have been steadily declining through the end of 2022.
2022 Oli Year in Review
The year began with strong bullish momentum in January, which had been building up for the majority of 2021. Markets were starting to show a clearer image of what was about to happen by the end of the pandemic at this point, all because vaccines became used wildly in the world.
The first half of 2022 saw a substantial increase in the price of Brent Crude oil, but the second half of the year saw a general fall. Similar trends were seen in the spot price for West Texas Intermediate (WTI), the U.S. benchmark price for crude oil, which ended the 2022 trading year $4/b higher than on January 3.
In 2022, the WTI spot price averaged $95/b and the spot price for Brent crude oil was $100/b.
The global crude oil market almost throughout all of 2022 remained volatile, as demand remained strong while supply was pushed down by the Ukraine war and active market management by OPEC+ (Organization of the Petroleum Exporting Countries) and its allies.
The news of Russia's invasion of Ukraine, which caused prices to spike by about 30% by early March, and the subsequent imposition of sanctions by western nations and their allies were largely to blame for this year's volatility in oil prices.
Those sanctions imposed on Russia during the conflict with Ukraine disrupted long-established trade flows, forcing consumers in Europe and a number of other countries to look further for supplies and give up on Russia as a main supplier.
Crude oil prices fell from June 8 through the rest of 2022 as demand fell due to worries about a potential economic recession. Other factors that affected crude oil prices in 2022 were broad-based inflation that affected consumer budgets and fuel demand was the high price of oil. The outlook for the world's economy has deteriorated high growing inflation and rising interest rates, that has driven down energy prices. Crude oil costs dropped below $90 in November and have been there ever since. Low gasoline consumption in the US was a result of high crude oil prices and rising fuel costs. In the meantime, China's strict COVID-19 containment measures helped to reduce global petroleum consumption. Brent crude oil's price, which was $75 per barrel on December 8, fell to its lowest level since 2022.
Crude oil prices forecast 2023
EIA ( U.S. Energy Information Administration) predicts that the price of Brent crude oil, the worldwide benchmark, will increase from an average of $81 per barrel (b) in December 2022 to an average of $83/b in the first quarter of 2023 in their January 2023 Short-Term Energy Outlook (1Q23). They anticipate that the approaching EU prohibition on imports of Russian petroleum products by sea, which will take effect on February 5, will be followed by this anticipated realistic increase. This ban will likely be more disruptive to the global petroleum markets than the EU's December 2022 ban on seaborne crude oil imports from Russia. They forecast the Brent price will stay relatively flat through 2Q23, averaging $85/b, and then decline through the end of 2024. Also, they stated an expectation that the Brent price will average $83/b in 2023 and $78/b in 2024, down from $101/b in 2022.
From 2022 to 2023, worldwide petroleum output is expected to rise by 1% (1.1 million b/d). The majority of the increase in world production is attributed to the United States and OPEC, countering Russian output reductions. As a result of sanctions associated with Russia's full-scale invasion of Ukraine, EIA potentially predicted that Russia's petroleum production will decrease from 10.9 million b/d in 2022 to 9.5 million b/d in 2023. They also noted that in 2023, U.S. output will increase by 5% (1.0 million b/d), and OPEC's (Organization of Petroleum Exporting Countries) production of liquid fuels (which includes crude oil) will rise by 0.5% (160,000 b/d).
Conclusion
The news of Russia's invasion of Ukraine, which caused prices to spike by about 30% by early March, and the subsequent imposition of sanctions by western nations and their allies were largely to blame for this year's volatility in oil prices. It is less probable that the war will cause prices to rise or fall as significantly as they did in 2022 since a big NATO-led escalation of the conflict is unlikely and most of the significant sanctions have already been imposed.
FocusEconomic panelists predict that OPEC production will mostly stagnate in 2023, with the recent output limit reduction serving as a cap. Tighter sanctions will force a decrease in Russian production, whilst recent sluggish drilling activity by shale companies will cause output in the US to expand, albeit slowly.
As a result, price fluctuations are anticipated, with crude prices generally averaging around 7% less in 2023 than they did in 2022. Additionally, uncertainty will keep prices in the $90 range, which is the highest level in the last ten years.
In times when a trader is positioning on the market fluctuations might seem scary at first, but they are the key indicators of how to profit during certain and uncertain times.
LimitPrime © 2023
Categories
---
READ MORE INTERESTING ARTICLES
---