Stock Market Rally - Will It Continue?
17.02.2023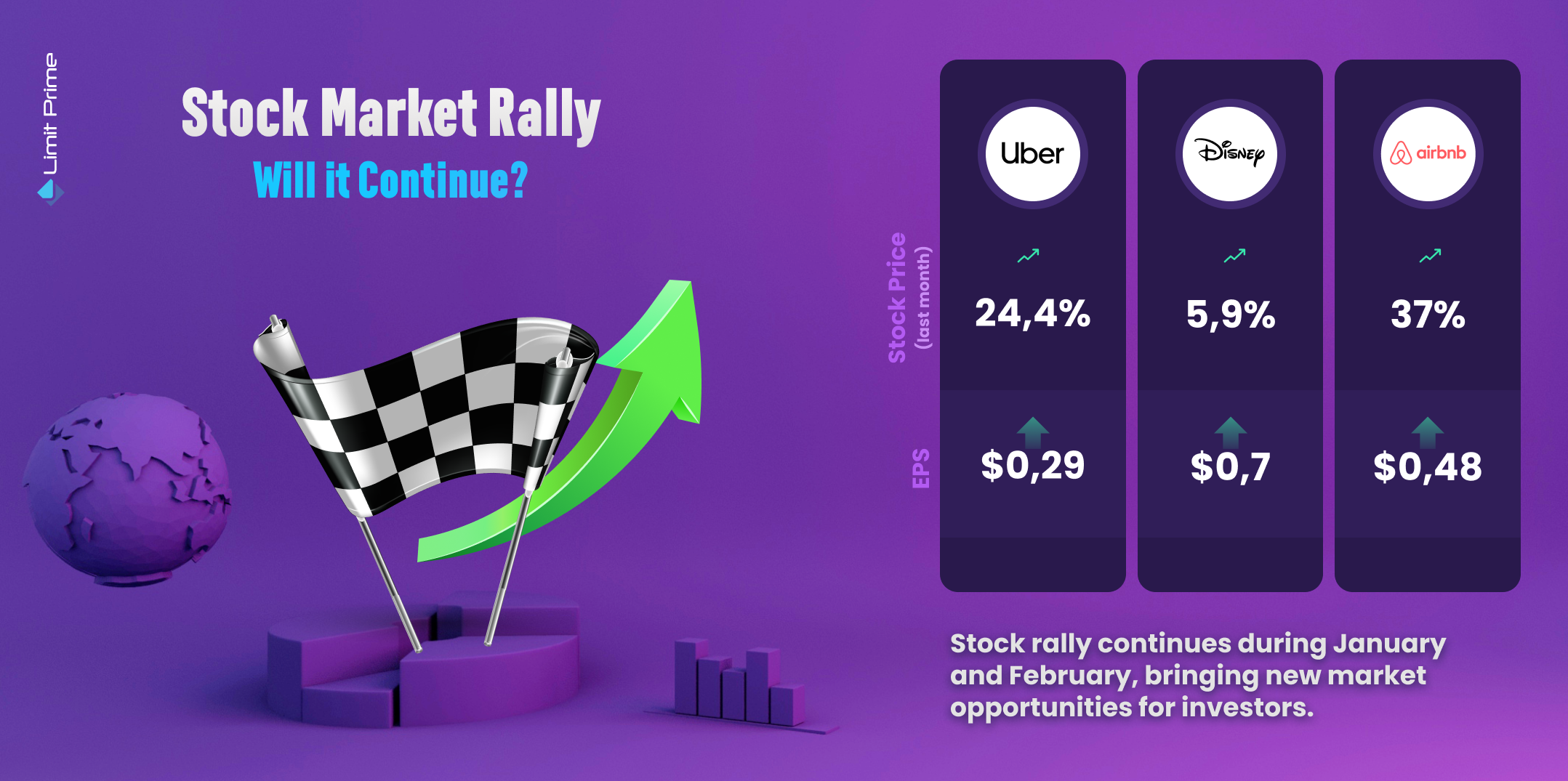 You are not alone if your stock portfolio suffered in 2022. The financial markets saw significant losses almost everywhere and investors were unwillingly searching for shelter in other financial instruments, like oil.
Stocks spent the majority of the year in a bear market but many other sectors of the capital market also experienced their largest losses ever.
Why all of this happened?
Well, a miserable year like this, which most investors would prefer to forget was caused by decades-high inflation that persisted much hotter than anticipated, rising interest rates, and worries about an impending recession.
But looking on the bright side, the stock market situation started to recover and show outstanding results in the fourth quarter of 2022. Bringing in an unbelievable stock rally.
Important Quarterly earnings reports were published in January and they continue to be published during February. Quartal reports are significant financial reports that give the market a preview of how stocks will probably be priced and move in the near future. When earnings reports beat market expectations, stock prices typically increase, but when earnings results disappoint, share prices typically decline.
So, let's dive into three companies that beat markets' expectations and had a successful ending of the year.
Uber (UBER)
Uber (UBER) reported an impressive quarter on 08 February 2023 with year-over-year growth in terms of customers, order frequency, and revenue.
The total revenue for the fourth quarter came in at $8.6 billion (that's a 49% increase year over year). The total gross bookings revenue was $30.8 billion (up 19% year over year).
The higher take rate happened due to the firm including driver incentives in some countries such as the United Kingdom as part of the cost of revenue.
The total number of users and travel requests both grew by 11% and 19%. Annually 131 million users and more than 2.1 billion trip requests. Since the second quarter of 2021, when built-up demand caused by the pandemic fueled 12% growth of travel per user per month, the numbers climbed at their quickest rate ever. However, consumption is still below the pre-pandemic level of roughly 5.5 in 2018 and 5.7 in 2019 at 5.4 trips per user.

User monetization grew by 35% from the previous year due to higher demand.
According to Uber, the platform's supply side also saw improvement as the number of drivers reached an all-time high in the quarter.
What is next for Uber?
Back in 2020, Uber announced that Joby Aviation would acquire Uber Elevate. Joby Aviation is a transport company that develops fully electric passenger aircraft. These parent companies have agreed to integrate their services and applications into one, providing access to travel by air to its future customers. The Uber Elevate project - simply said it's an air taxi, which should start its implementation in 2023. Uber also signed a contract with the US military to develop a test for the flying taxi.
Will the 2020 plan finally be implemented in 2023? Well, we will see.
Uber's stock
Analysts forecast increases in adjusted EBITDA (Earnings before interest, taxes, depreciation, and amortization) and revenue for Uber of 16% and 88%, respectively, for the entire year. The stock still appears affordable at less than 2 times this year's revenues and 21 times adjusted EBITDA based on those projections.
Therefore, whenever the bad market eventually ends, analysts potentially predict an increase in Uber's stock. The stock itself it's still inexpensive to buy in comparison to its long-term prospects, even if its bookings and revenue are increasing and its margins are widening.
After publishing the Q report Uber's stock was valued at 36.83$ per share.
The Walt Disney (DIS)
The Walt Disney Company reported earnings on 02 February 2023.
Investors and traders were pleasantly surprised, once again.
Disney's revenues for the quarter grew by 8%.
Diluted earnings per share (EPS) increased to $0.70 from $0.63 in one year period of time.
"After a solid first quarter, we are embarking on a significant transformation, one that will maximize the potential of our world-class creative teams and our unparalleled brands and franchises," said Robert A. Iger, Chief Executive Officer of The Walt Disney Company. "We believe the work we are doing to reshape our company around creativity while reducing expenses, will lead to sustained growth and profitability for our streaming business, better position us to weather future disruption and global economic challenges, and deliver value for our shareholders."
The average monthly revenue per paid subscriber for domestic Disney+ decreased from $6.10 to $5.95 driven by a higher mix of subscribers to multi-product offerings, partially offset by an increase seen in retail pricing.
The average monthly revenue per paid subscriber for international Disney+ (excluding Disney+ Hotstar) decreased from $5.83 to $5.62 due to an unfavorable foreign exchange impact.
The average monthly revenue per paid subscriber for Disney+ Hotstar increased from $0.58 to $0.74 due to higher per-subscriber advertising revenue.
Disney's stock was valued at 113.71$ after the report was released.
What's next for Disney's stock?
The median price objective among the 26 analysts providing 12-month price projections for Walt Disney Co. is $130, with a high estimate of $141 and a low estimate of $95.00. From the most recent price of 109.22, the median forecast reflects a rise of +19.03%.
Airbnb (ABNB)
Shares of Airbnb rose about 9% after the company released fourth-quarter earnings that beat analysts' estimates on top and bottom lines. The report was published on 14 February 2023.
Here's how the company did:
Earnings per share: 48 cents vs. 25 cents expected by analysts, according to Refinitiv.
Revenue: $1.90 billion vs. $1.86 billion expected by analysts, according to Refinitiv.
Revenue for the fourth quarter was up 24% year over year. Airbnb reported $319 million in net income for the quarter, up from $55 million a year earlier, and adjusted earnings before interest, taxes, depreciation, and amortization of $506 million, surpassing the $432 million expected by analysts, according to StreetAccount.
Airbnb said it made difficult choices to cut spending during the pandemic but has modestly increased its headcount over the past two years.
Gross booking value, which Airbnb uses to track host earnings, service fees, cleaning fees, and taxes, totaled $13.5 billion in the fourth quarter. The company reported 88.2 million nights and experiences booked in the fourth quarter, up 20% year over year, but below the 89.7 million expected by analysts, according to StreetAccount.
What's next for Airbnb's stock?
The price of ABNB stock from its initial public offering of $68 per share rose as much as 223%, reaching an all-time high of 219.94 on February 11, 2021.
Based on IBD (Index that seeks to identify the current top 50 growth stocks) research, powerful breakaway gaps following positive news suggest that the rally can only get stronger.
Conclusion
January's and February's stock rally continues, bringing opportunities for investors to invest.
Uber, Walt Disney, and Airbnb are just some of the examples that had excellent quartal results for this period.
LimitPrime © 2023
Categories
---
READ MORE INTERESTING ARTICLES
---