5 Holiday Stocks To Watch
29.12.2022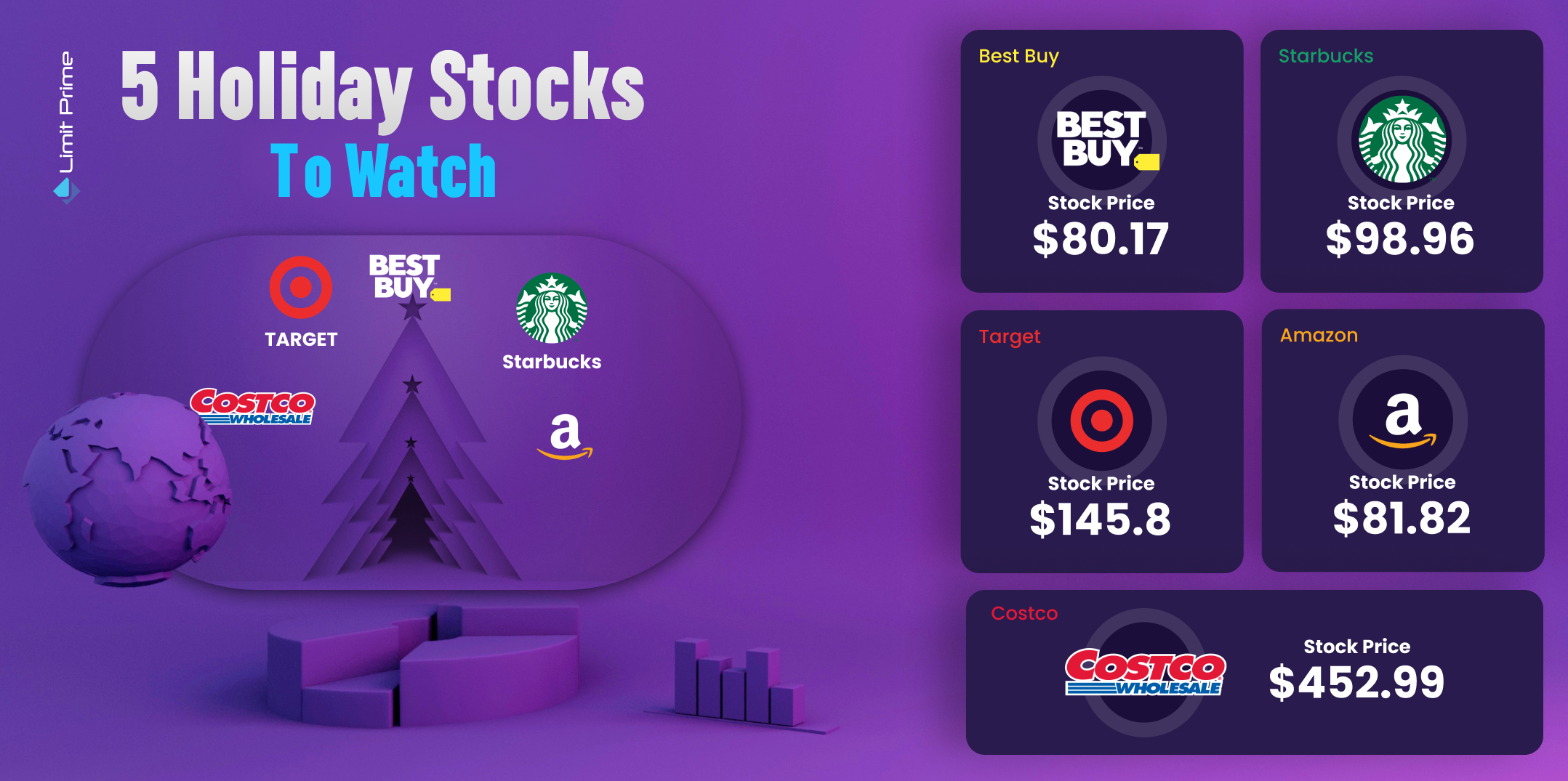 Happy holidays, traders!
We're getting excited about the new year and all the great things it will bring. Let's take a few seconds to look back at what happened in 2022 and see how we can apply those lessons to our future trading. There were plenty of highs and lows on the market this year. On the negative side, the Dow Jones Industrial Average is down 8.52% year-to-date, while the S&P 500 is down 14.39% year-to-date. And on the positive side, the energy sector had a blast and amazingly good results.
Everybody knows this is the perfect time to celebrate with family, friends, and loved ones but stock market traders know that this is also a great time of year to make trades.
Speaking of that, here are the top 5-holiday shopping stocks:
Amazon (AMZN)
If you're looking to invest in the holiday season, there's no better place than Amazon. one of the greatest stocks of the twenty-first century and the largest eCommerce monster on Earth. It's hard to believe that it was just a few years ago that Amazon was considered an online bookstore. Now it's a great place for investors to put their money.
The reason is simple: Amazon makes it easy for everyone, from experienced investors to newcomers. You don't need a lot of money or even any experience with investing; you can just go online and click "buy." And even if you're an experienced investor looking for something new, Amazon offers plenty of ways to make your money grow.
But besides being one of the best retailers in the world, Amazon has had a rather poor year thus far and, unusually for the retailing titan, is entering the holiday season with pessimistic investor sentiment. But despite the stock's YTD decline of approximately 45% as of November 4, 2022, many experts still believe it has long-term value.
In actuality, the 43 analysts that follow the stock have rated it as a "Strong Buy" on average, with a $142.29 12-month price objective. This predicts a significant 36% upside over the coming year, with a significant chunk of those gains perhaps occurring in the upcoming months.
Costco (COST)
Big box retailers like Costco are a distinct species from businesses like Walmart and Target. Costco actually derives a sizable portion of its profits from membership dues, which devoted consumers renew at the astounding rate of 92.6% in the United States and Canada. Costco, known for its inexpensive goods is poised to see record-breaking holiday sales this year. It may be a good time to buy shares now that the company is down approximately 14% year to date before the Christmas sales figures are released. Analysts on Wall Street anticipate a 14% increase over the upcoming year.
Target (TGT)
This year, many investors have both Walmart and Target on their Christmas lists, and with good cause. In order to survive the supply-chain crisis that is choking the retail industry, both companies have established long-term container shipping partnerships.
However, Target might be the wiser big-box wager. Analysts have already rated it as a "strong buy," but in contrast to Walmart, it is approaching sales this holiday season quite differently. Target employed over 100,000 seasonal employees in 2022, about the same as in 2021, but Walmart will employ a combination of 40,000 full- and part-time employees during the Christmas season. Which is a better strategy, to keep the store flowing.
Starbucks (SBUX)
Over its nearly 50 years of existence, Starbucks has grown into one of the most recognizable brands in the world—and it's not hard to see why! Everyone who visits one of their locations feels like they're entering another coffee world. Despite the impression that there is a Starbucks somewhere on every corner, the well-known coffee shop is nevertheless expanding quickly. Starbucks aims to open 2,000 new locations in the United States alone by the year 2025, and during the next five years, approximately one new location will be opened in China every 15 hours. That growth is really incredible, bringing new opportunities for traders. During the holiday season, because of the combination of cooler weather and increased foot activity from shoppers during the holidays, Starbucks does exceptionally well.
Best Buy (BBY)
Best Buy, like Target and Walmart, has the connections and reach necessary to survive any supply-chain hiccups that may attempt to destroy Christmas. However, that is not the only reason why investors should pay attention to the nation's top electronics store.
Best Buy has a few arrows in its quiver, including its $199 annual TotalTech subscription, which comes with benefits including free delivery and installation of Best Buy devices and 24/7 tech help from the GeekSquad. On Wall Street, subscription revenue has risen to the status of the new gold standard, and the TotalTech program has been expanding. The company has a lot to offer, especially before the holiday shopping season, when you consider the substantial 5.11% yield.
Conclusion
We know you've probably heard it all before.
You're going to make your first investment, and you're going to be rich! You'll get rich off of the holiday season, and then you'll never have to work again.
But here's the thing: it's not true.
Yes, you can profit from holiday shopping—but it's not going to be easy. In fact, if you're not careful, you might just lose all your money in the process. And we don't want that for you! With Limit Prime you never lose more funds than you deposit. And our mentors are here to support you and carefully guide you throughout your trading journey.
LimitPrime © 2023
Categories
---
READ MORE INTERESTING ARTICLES
---